Dog Sports Centre
Instructors
Our instructors bring years of experience and skill to each class. Each of our instructors wants to help you succeed with your dog, whether your plans are a well behaved pet or a World Champion! All of our instructors actively compete in several dog sports and have many accomplishments. They are very well qualified to help you with your best friend. As well as being competitors, many of our instructors are also judges in one or more dog sports. Our instructors and their dogs have also been featured on may television programs including; Top Dogs, Pedigree World of Dogs, Dogs in Canada TV, Ultimate Dogs, Open Mike with Mike Bullard, Discovery and many local and national morning shows and news programs. Our instructors are also the authors of many training and dog articles published in several dog and general interest magazines.
Scroll down to learn more about each of our instructors!
 
Dawn Kadish DVM
Dawn brings a great deal of experience to Dog Sports Centre. Dawn has been involved in dog training since 1985 and has been a veterinarian since 1990. As well, Dawn breeds Border collies and competes in a wide variety of dog sports. She has competed successfully with her dogs in obedience, flyball, agility, tracking, disc dog, herding, games competitions and even weight pulling! Dawn brings a deep love and understanding of dogs to her classes as well as the joy of playing and bringing out your dog's hidden skills. Dawn is a judge for the Canadian Disc Dog Association (CDDA) and a masters judge for the Agility Association of Canada (AAC). She also enjoys presenting seminars on dog training and Canine First Aid throughout Canada and the USA. Dawn evaluates dog behaviour for the SPCA and provides a consultation program for dogs with behaviour problems.

Dawn and her Border collie Tribble were National Steeplechase Finalists at the AAC National Championships in August 2007. In 2008 Dawn and Tribble won the Ontario Regional Agility Championships (22") and then went on to place 4th overall at the Canadian National Agility Championships (22") in Sussex, New Brunswick. In 2009 Tribble was in the top ten at the AAC Ontario Regionals and again placed 4th overall at the AAC Canadian National Agility Championships (22") in Ottawa, Ontario.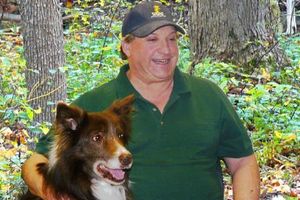 Howard Kadish CPDT
Howard thinks of dogs as your best buddy and partner first and foremost. Howard enjoys using play to motivate and drive dogs to perform their best. Howard was the driving force behind the foundation of the Canadian Disc Dog Association and is well known for his exciting, energetic and fast-paced Disc Freestyle routines with his border collies Zac & Zed. He is very good at explaining the steps to develop the skills needed to be successful in the sport of disc dog. Howard's entertaining style makes classes fun for the owners as well as the dogs. Howard has trained several disc dog Champions and successfully competed in Flyball earning a Grand Championship title with one dog and winning both regional and division championships. Howard's dog Zed is ranked number one in Canada and is the first dog to earn the prestigious Disc Dog Elite Champion title. Howard is also a cruelty investigator for the SPCA.
In 2008 Howard and his dog Zed qualified at the AAC Ontario Regional Championships and went on to compete at the Canadian National Agility Championships in Sussex New Brunswick. Howard has travelled all over the USA and Canada giving seminars and clinics. He is a Certified Professional Dog Trainer (CPDT) one of only a few in Canada!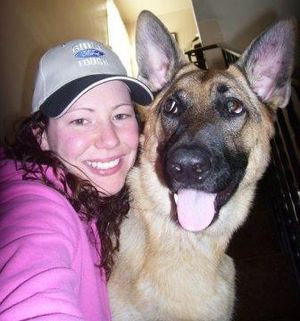 Vicki Crocker

Vicki is a terrific addition to our training staff.  She understands how dogs think and wants to help owners build the kind of mutually beneficial relationship with their dogs that we all want.  Vicki has three dogs of her own, Jib a border collie, Lady a sheltie and Penny a Border collie cross.  Vicki competes in agility, dock diving and disc dog competitions with her dogs.  Vicki is always quick with a smile and happy to share her knowledge and skills.  As well as working with her own dogs and teaching others, Vicki is also an OSPCA agent.  Vicki has dedicated her life to the improvement of the quality of the life of all animals





website design by Breederoo